The JRM brand might not be very well-known to engineers and business people outside of Japan yet, we have been indirectly providing high quality products around the globe for decades.
Few would deny that Japan boasts the most advanced and sophisticated electronics industry in the world, and it is within this exciting and fast-moving environment that JRM has developed its technologies and expertise.
In recent years, JRM has been working in automotive and heavy & general (engineering) industries where our delivery, quantity and quality control systems are both approved by major Japanese manufacturers, and much appreciated by our overseas customers.
Furthermore, JRM's Shanghai plant ensures competitive pricing whilst maintaining Japanese manufacturing methods - a great advantage to all our valued business partners.
With our extensive experience and cooperative policy towards the needs of our customers, we hope to provide you with the most reliable and comfortable business models.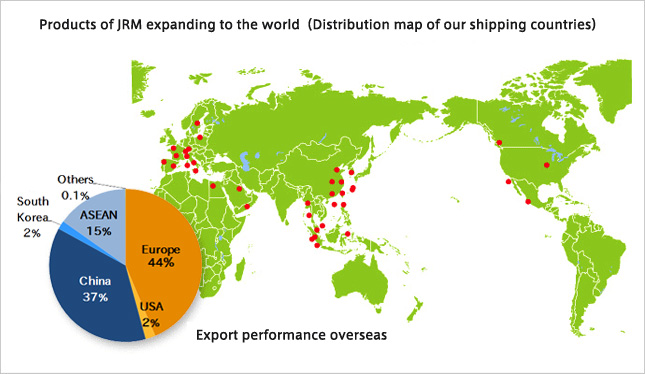 JRM Operation outside Japan
JRM Group have a foothold for manufacturing and sales respectively and have developed global business particularly in Asia.
Sales Office
Shanghai JRM Trading Co., Ltd.
Room A713, Yin Hai Building, No.250 Caoxi Road, Shanghai 200233, Chaina
TEL +86 21 6483 3623
JRM(Thailand) Co., Ltd.
2/3 Moo 14,Bangna Towers A,2nd Floor,Unit No.208, Bangna-Trad Rd., KM. 6.5,Bangkaew, Bangplee, Samutprakarn
TEL +66 2 312 0288
Production Site
JRM (Shanghai) Electronics Manufacturing Co., Ltd.
No.3 & 4 Standard factory, No.8 Rongxiang Road, Songjiang Export Processing Zone, Shanghai 201611, China
Business Category
Substrates for electronic control, hybrid Integrated Circuits, resistors, development and design and manufacturing of electrical toilet seats and their blocks, processing and assembling of equipment for control and their cases related to traffic and parking, sales of our own products. Wholesale, export and import, brokerage(except auction)of products similar to our own.
Feature
This production line complies with RoHS as well as ISO9001 and 14001, in addition ISO13485 for medical equipment manufacturing obtained recently.
Also it is an essential system for automotive industries that all the production records can be traced one by one, and this promises a high level of quality control requirements.